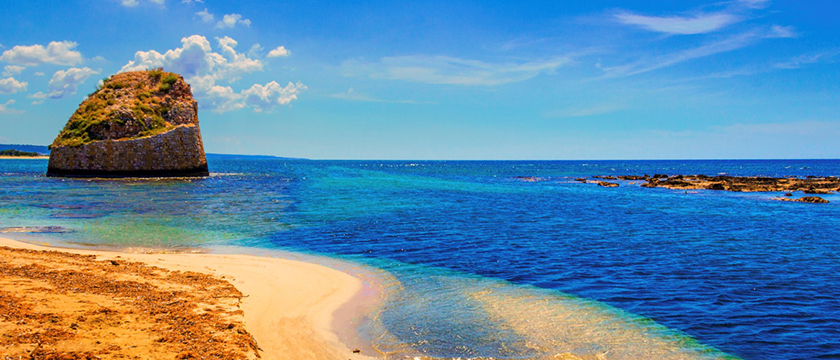 Discovering the area of Marina di Pescoluse
Marina di Pescoluse is a hamlet of Salve in province of Lecce on the ionian coast of Salento. It is a beautiful coastal area located between Torre Pali and Torre Vado. Its beach is unique due to its very fine and white sand touched by a clear and crystalline sea. Not far from the coast there are several karst caves and in the area there are also archaeological sites with Dolmen and a very ancient tombs.
North of Marina di Pescoluse there is Torre Pali that takes its name from the 16th century watchtower, completely surrounded by the sea at about 20 meters from the beach. Nowadays the tower is irreparably damaged by the water but remains a fascinating attraction of Capo di Leuca. At 100 meters from the beach there is a rock called "Isola della Fanciulla" on which there are glamours legends.
South of Marina di Pescoluse there is Torre Vado which is a marina of the municipality of Morciano di Leuca characterized by a small port and low cliffs. Here you can admire one of the many coastal watchtowers built in the sixteenth century by Charles V to defend the territory of Salento from Saracen pirates invasion.
Other touristic places just a few kilometers from the Salve's marinas can be visited such as Santa Maria di Leuca, Torre San Giovanni, Gallipoli.